About Newcrest
Corporate governance
Adherence by the Company and its people to the highest standard of corporate governance is critical in order to achieve its vision. 
The Company follows the recommendations for effective corporate governance as published by the Australian Securities Exchange (ASX) Corporate Governance Council (4th edition ASX Principles and Recommendations) and regularly reviews its governance and compliance practices.
The Newcrest Board comprises eight directors. The Board has determined that all Non-Executive Directors including the Chairman are considered independent in accordance with the Board's Independence Policy. 
The functions of the Board are set out in a Board Charter. Charters for each Board Committee set out the roles and responsibilities for the Committees and can be viewed below. These Charters are regularly reviewed and revised where appropriate.
Newcrest recognises the importance of keeping the market fully informed of the Company's activities and of stakeholder communication in a timely, balanced and transparent manner. 
The Board has adopted a Market Disclosure Policy to ensure the Company meets the continuous disclosure requirements of the ASX and the other exchanges on which it is listed. In this respect, the Board is supported by the Disclosure Committee: Disclosure Committee Charter.
Employees are encouraged to be long-term holders of Newcrest's shares. It is important that care is taken in the timing of any acquisition or disposal of those shares or securities in any company in which the person may possess inside information. 
The Company has a Securities Dealing Policy which includes blackout periods when employees must not deal in the Company's securities.
Newcrest has adopted a Code of Conduct applicable to all our employees, officers, directors, contractors, consultants and third parties who work with us, or on our behalf. The Code is our blueprint for the way we work and sets the expectations for people and the benchmark for all of us to live up to.
Newcrest's Speak Out Policy applies to all current or former employees, officers, directors, contractors, consultants, suppliers or relatives of the above who are encouraged to Speak Out about any misconduct, anything that may be unethical or illegal, any safety issues or any serious breaches of the Code of Conduct.  A choice of reporting channels are available so you can Speak Out in a way you are most comfortable, including an independently administered hotline, where reports can be made anonymously. 
Newcrest's Anti-Bribery, Fraud and Sanctions Policy, Code of Conduct and related policies strictly prohibit activities involving bribery, corruption, unauthorised payments or exercising improper influence by all employees and contractors.  Newcrest is committed to a culture of trust, integrity and honesty.
Organisational and workforce diversity at Newcrest is led by the Board and is driven by recognition that an inclusive culture and diverse workforce supports high performance. The Diversity and Inclusion Policy outlines how Newcrest supports a diverse and inclusive workforce.
Oversight of risk management practices and internal controls is a key responsibility of the Board. Newcrest has a detailed risk management and internal control framework incorporating policies and procedures which set out the roles, responsibilities and guidelines for identifying and managing material business risks. The effectiveness of this framework is reviewed regularly by the Board with the support of the Audit and Risk Committee.
Newcrest recognises that risk is inherent in its business and that effective risk management is essential to protecting business value and securing the growth of the Company.
Accordingly, we will:
Consider risk when establishing the appropriate strategic direction for the Company with regard to the diverse environments in which the Company operates

Maintain a framework to describe how risk management is effectively implemented and integrated into Newcrest business systems and processes

Apply risk management techniques as an integral part of decision-making at all levels

Identify the potential impacts on the Company by undertaking risk assessment using approved criteria for likelihood and materiality

Ensure that risk control measures are designed, implemented and operated to achieve a reduced level of residual risk and that control effectiveness is verified

Implement processes for crisis management and business continuity planning that enable the Company to effectively respond to material risk events

Provide effective risk financing strategies including insurance for the management of risk
Company policies
Our vision at Newcrest is to be the Miner of Choice. 
We will lead the way in safe, responsible, efficient and profitable mining. We strive to achieve this by ensuring that we live and work by our values. 
At Newcrest, we value caring about people, integrity and honesty, innovation and problem solving, high-performance and working together. These values are encapsulated in our Code of Conduct which acts as a blueprint for the way we do business. Through this Code we are committing to strive to be the best employer, business partner and community participant and for continuous improvement of performance.
Our policies help us to try and implement best practice and achieve high performance.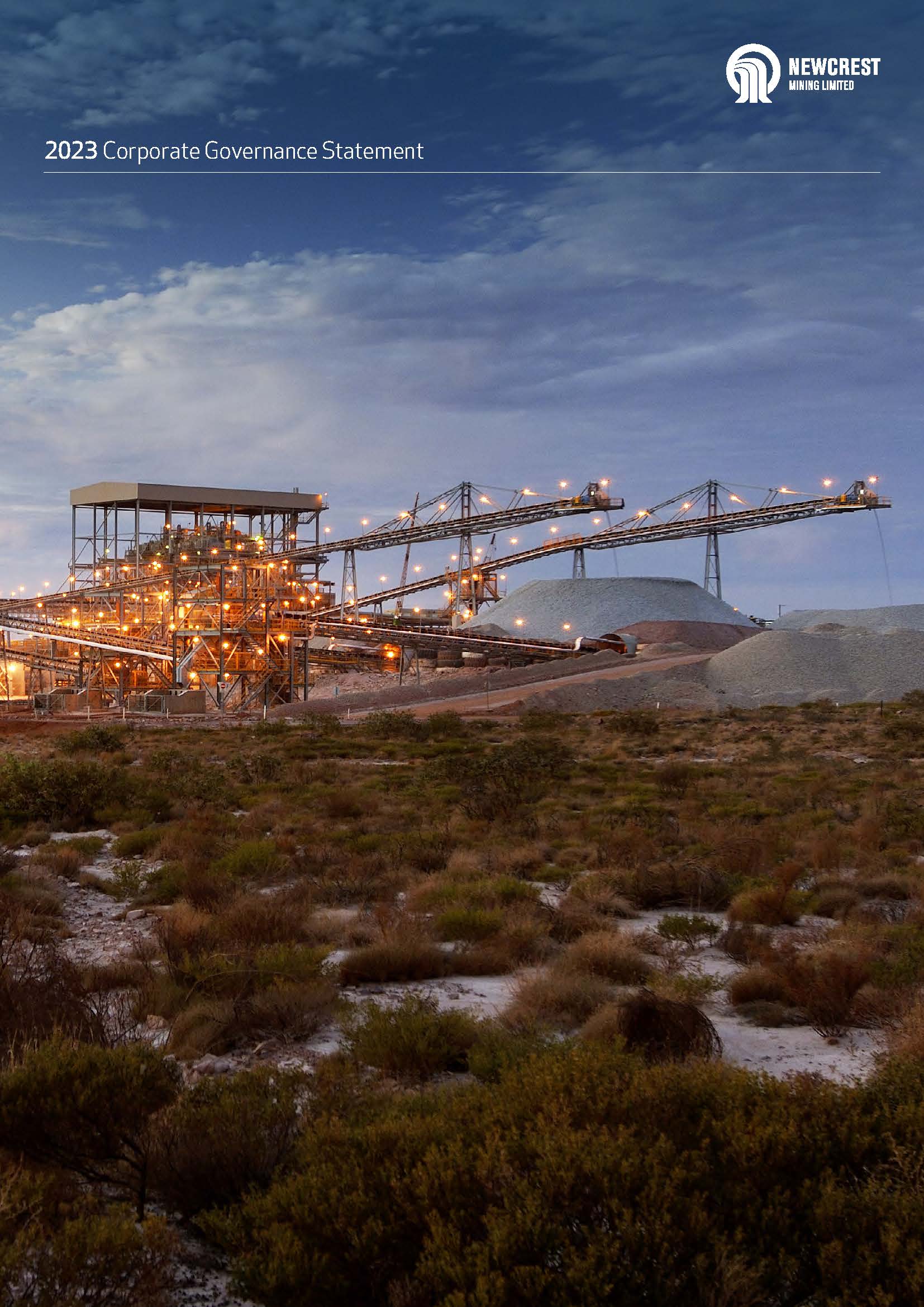 Corporate Governance Statement
A more detailed discussion of Newcrest's approach to Corporate Governance can be found in the Company's most recent Corporate Governance Statement.
BOARD COMMITTEES AND CHARTERS
Governance documents
Company Constitution
Company Policies
Board committees and charters