In an Australian first, the construction of an exciting new Molybdenum plant at Cadia will have wide-ranging benefits for Newcrest over the long term.
Molybdenum, or 'Moly' for short, is a silvery-white metal used in steels and superalloys to enhance strength, prevent corrosion and reduce brittleness, as well as being used in lubricants, fertilisers and pigments.
Moly is sometimes mined as a primary product but is more commonly recovered as a by-product or co-product from copper or tungsten mining. This is what will happen at Cadia.
Construction of Australia's first Moly processing plant started in February 2020, after Board approval in June 2019. At nameplate capacity, the plant will generate an additional revenue stream of about A$45 million per annum.
Moly is extracted from the copper concentrate stream prior to it being pumped to Blayney, producing a  Moly concentrate at Cadia that will be approximately 50% Molybdenum and be in a dry powder form.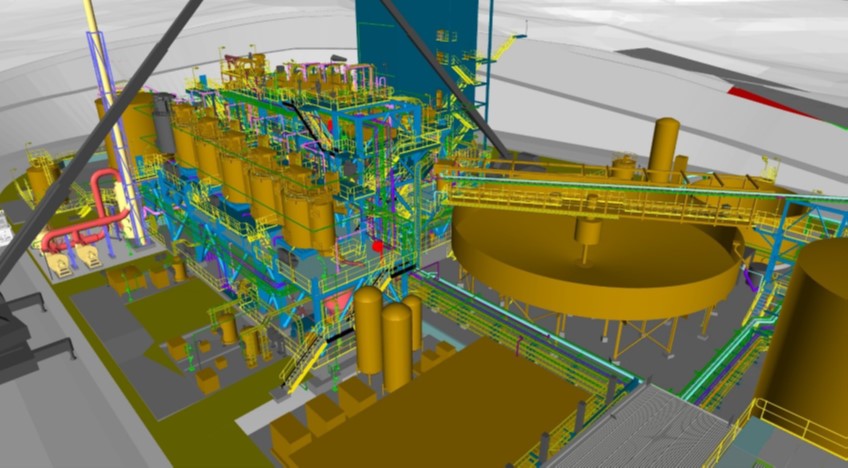 "We're literally tapping into the pipeline that runs to Blayney," said Moly Project manager, Malcolm McPhan.
"We divert the copper concentrate from the pipeline on its way to Blayney to the Moly Plant where we extract the Moly via a flotation process, then we pump it back into that pipeline and send it on its merry way to Blayney."
The small flotation plant is made of a series of flotation cells, thickeners, a grinding mill, dryer, scrubber, bagging plant and lots of instrumentation to control it all. The level of control and automation provided for the Moly Plant is world class to optimise recoveries and concentrate grades.
The plant has been designed using the latest intelligent 3D modelling software which has already provided excellent insights throughout the design process and should offer substantial benefits over conventional packages during construction and commissioning.
At a project cost of $130million, it is employing 140 people during construction and about 15 full time roles will be created when operational to produce about 4.1 million pounds (lbs) of Molybdenum per annum, with a reduction in AISC (life of mine average) of A$67/oz.
Malcolm and his team will commence commissioning the plant towards the end of this year with the intent of handing the plant over to Operations by June.
UP NEXT IN
OUR STORIES
Newcrest is proud to become a WORK180 Endorsed Employer as part of our International Women's Day celebrations.
Friends and family members were able to experience life at an underground mine at Cadia Operations in April 2019.


Newcrest has a long-term commitment to malaria research and prevention through our Lihir Malaria Elimination Program.