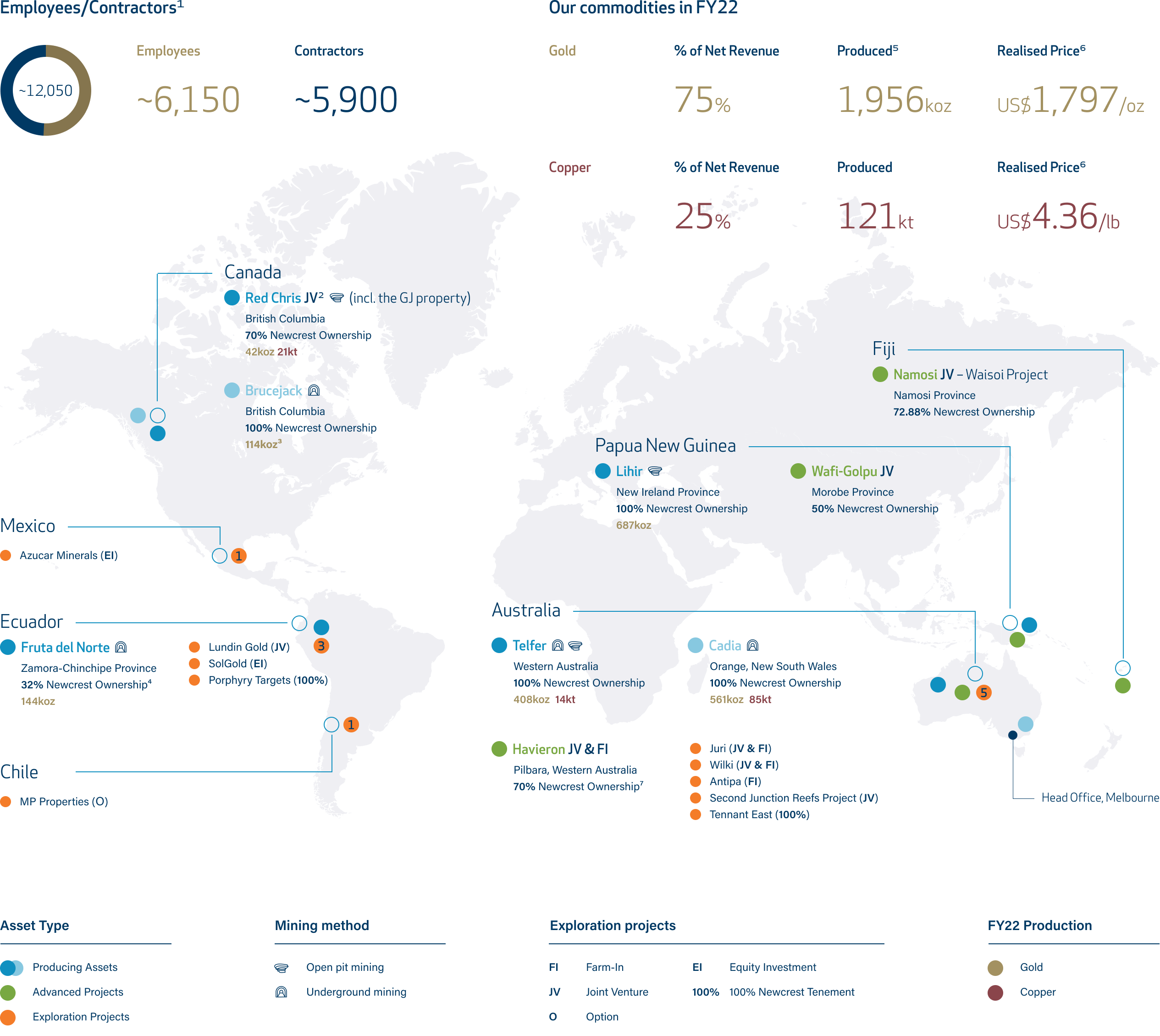 At 30 June 2022. Employees are Newcrest directly employed headcount. Contractor headcount include labour hire and project contractors, replacement labour and other contractors. Data represents Exploration and Australian, PNG and Canadian operations.
Production and financial outcomes represent Newcrest's 70% share.
Newcrest completed the Pretium transaction on 9 March 2022. In accordance with accounting standards, the acquisition date has been determined to be 25 February 2022. All Brucejack figures relating to FY22 represent the period since Newcrest's acquisition.
The production outcome shown represents Newcrest's 32% attributable share, through its 32% equity interest in Lundin Gold Inc. 
Group gold production includes 143,723 ounces relating to Newcrest's 32% attributable share of Fruta del Norte through its 32% equity interest in Lundin Gold Inc. The outcomes for Fruta del Norte have been sourced from Lundin Gold's news releases and have been aggregated to reflect the twelve-month period ended 30 June 2022.
Realised metal prices are the US$ spot prices at the time of sale per unit of metal sold (net of Telfer gold production hedges), excluding deductions related to treatment and refining charges and the impact of price related finalisations for metals in concentrate. The realised price has been calculated from sales ounces generated by Newcrest's operations only (i.e. excluding Fruta del Norte).
The Havieron Project is operated by Newcrest under a Joint Venture Agreement with Greatland Gold. Newcrest has a 70% interest in the Havieron Project (Greatland Gold 30%).