Investor Centre / 2021 Annual Report
Chairman's Report
Dear Shareholder, 
I am pleased to present Newcrest's Annual Report for FY21 which outlines our progress and achievements for the year. 
It has now been six years since Newcrest established its safety transformation plan and the benefits are evident throughout our business. We are now approaching six years free of fatalities and have reported a pleasing 12% improvement in injury rates compared to the prior year.
At the 2020 Annual General Meeting I spoke about the devastating impact the COVID-19 pandemic was having on lives and economies across the world. Our number one priority during the pandemic has been the health and safety of our people and local communities. We continue to apply a wide range of precautionary measures throughout the business which include strict hygiene and social distancing requirements as well as comprehensive testing, quarantine and contact tracing procedures to keep people safe and help minimise disruptions to our operations.
In April 2020 we announced our A$20 million Community Support Fund which was established to help support our host communities with the challenges associated with the COVID-19 pandemic. Since its inception the Fund has supported a variety of initiatives ranging from immediate health assistance to livelihood restoration and economic recovery in Papua New Guinea, Australia, Canada and Ecuador.
Notable initiatives of the Fund during the year have included a commitment to support vaccine rollout (and additional in-kind logistical support) as a Founding Member of the COVID Vaccination Alliance of UNICEF Australia in Papua New Guinea as well as contributing to the establishment of the first Intensive Care Unit in the Province of Zamora-Chinchipe (Ecuador), in partnership with other mining companies and Ecuadorian authorities. We recently extended the Fund through to June 2022 and look forward to seeing its continued benefits over the next 12 months.
In the second half of the financial year, we announced our Purpose of Creating a brighter future for people through safe and responsible mining. This is about delivering more than just safety, profits and growth – it is about leaving a positive impact for all our stakeholders such that they are better off by us operating in proximity to their community and from having invested in us, partnered with us or worked with us.
We understand that our employees, younger generations, investors, governments and the broader society look to the corporate world to take the lead on Environmental, Social and Governance (ESG) matters.
Newcrest recognises that we have a responsibility to do our part to reduce the impact of climate change and in May 2021 we announced our goal of net zero carbon emissions by 20501. We believe that as an industry we have the ingenuity, technology and capability to reduce our carbon footprint, and these capabilities position us well as we target a zero-carbon emissions future.
At Newcrest we also recognise the benefits of using strategic partnerships to realise our goal of net zero carbon emissions. One such example is the landmark 15-year renewable energy Power Purchase Agreement (PPA) that we signed with a wind farm developer for an amount of energy which represents a significant portion of Cadia's future projected energy requirements. The PPA will act as a partial hedge against future electricity price increases and will provide Newcrest with access to large-scale generation certificates which Newcrest intends to surrender to achieve a reduction in its greenhouse gas emissions. The PPA, together with the forecast decarbonisation of electricity generation in New South Wales, is expected to help deliver a ~20% reduction in Newcrest's greenhouse gas emissions from calendar year 2024 and is a significant step towards the achievement of our previously announced target of a 30% reduction in greenhouse gas emissions intensity by 20302.
Net Zero Emissions goal set
Net zero carbon emissions by 2050
New dividend policy
Targeting a free cash flow payout of at least 30–60%, with a minimum total annual dividend of US 15cps
FY21 Result:
41%
payout of FY21's free cash flow
Total dividends for FY21
us55cps
On the people front, we acknowledge that a broad and diverse pool of talent is essential to deliver on our strategies and make a positive impact on society. To us this means a workforce comprised of skilled professionals from diverse backgrounds.
During the year we continued to focus on increasing female representation across our business and made great progress attracting a broader diversity of talent. We increased our global hiring of external female talent to 23% (from 15% in FY20), thereby increasing our overall global female representation to 15.6% (from 14.8% in FY20). We remain committed to retaining, developing and providing leadership opportunities to our all of our people, especially our female talent.
Over the last few years we have observed significant failures in our industry, such as the destruction of significant cultural heritage sites and tailings dam failures. Whilst these tragedies reflect poorly on the mining industry they also present opportunities to learn and improve our governance and risk management practices to prevent such incidents occurring again in the future.
At Newcrest we recognise the importance of cultural heritage for current and future generations. We have robust policies and standards in place such as Newcrest's Indigenous, Human Rights and Communities Policies which underpin the protection and preservation of cultural heritage. We conduct regular cultural heritage assessments at each of our operating and exploration sites in partnership with Traditional Owners, Landowners and First Nations people and incorporate their views into our decision‑making.
In February 2021, we released our revised Tailings Governance Policy which sets out Newcrest's commitment to managing tailings storage facilities safely and responsibly.
Newcrest is committed to designing, operating, closing and remediating its tailings storage and disposal facilities in a safe, socially and environmentally responsible manner, in compliance with the Global Industry Standard on Tailings Management.
During the year, we announced several changes to the composition of Newcrest's Board and Executive Committee. We welcomed Ms Sally-Anne Layman as an independent Non‑Executive Director and a member of the Audit and Risk Committee and Ms Jane McAloon as an independent Non‑Executive Director and a member of the Human Resources and Remuneration Committee.
We also announced the resignation of Ms Xiaoling Liu in September 2020 and the decision of Mr Gerard Bond, Newcrest's Finance Director and Chief Financial Officer, to leave Newcrest in early 2022. Gerard is the longest serving member of the Newcrest Board and Executive Committee and he has made a significant contribution to Newcrest's success during his ten year tenure. We thank Gerard for his dedication and service to the Company and wish him every success for the future.
In February 2021, the Board approved a new dividend policy that retains the minimum total annual dividend of US 15 cents per share but increases the target percentage of free cash flow to be paid in dividends to be at least 30–60% (up from the previous policy target of at least 10–30% of annual free cash flow generation).
Having regard to Newcrest's record free cash flow generation, strong balance sheet and our future outlook, the Board has determined to pay a fully franked, final dividend of US 40 cents per share, which is 129% higher than the final dividend for FY20. This equates to a total full year dividend of US 55 cents per share which represents a 41% payout of FY21's free cash flow and marks our sixth consecutive year of increasing dividend payments to shareholders.
Newcrest recently announced that I plan to retire as a Director and Chairman of the Newcrest Board, effective immediately after the Company's Annual General Meeting on 10 November 2021. I would like to take this opportunity to thank all of our shareholders for your continued support over my eight year tenure.
We believe that Newcrest is a unique offering in the gold industry, with a low Group All-In Sustaining Cost per ounce, an exciting pipeline of organic growth options, long reserve life, strong exploration and technical capabilities and a strong balance sheet.
The Board remains confident about the Company's prospects under the leadership of a strong and committed management team.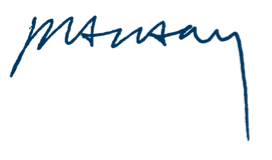 Relating to Newcrest's operational (Scope 1 and Scope 2) emissions. Newcrest intends to work across its value chain to reduce its Scope 3 emissions.
Kg CO2-e per tonne of ore treated and compared to a baseline of FY18 emissions.